Augmented Reality (AR)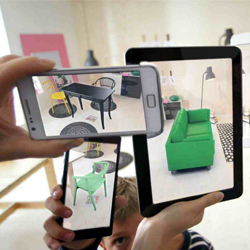 Create captivating 'augmented reality' experiences delivered via mobile, web-cam or kiosks.
Bespoke mobile augmented reality experiences can be used to provide a richer shopping experience. It also offers a highly engaging and interactive way to deliver promotions and wayfinding information. These solutions are non-standard and require custom development.
An example could be, when a user walks through the centre they hold up their phone and look through the camera view and little pop-up overlays telling them about the specials available in each store as they walk down each thoroughfare.
Other examples include using 'image recognition' triggers to bring your packaging, print ads or retail signage to life; using the mobile device's GPS as the trigger to launch the experience when the user enters a specific store or mall; measure engagement, track usage and calculate effective ROI.