Mobile Apps & mSites.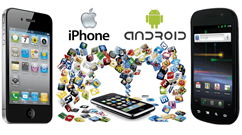 AURA specializes in development of location-aware applications for mobile and tablet, both iOS and Android.
Be it native, hybrid or web apps; large or small screen form factor; smartphone or feature phone; AURA can develop the best mobile solution for your business, audience and most importantly your budget.
The mobile apps world is a fast-paced, innovative and dynamic environment. As the uptake of smartphones is on the rise, this is the best time to invest in extending the presence of your brand on smartphones.
The smartphone penetration in Australia is at around 66% (2013). Many users own multiple devices, and switch between a smartphone, a tablet, a PC and a TV multiple times throughout the day. With an increase in the number of 'companion' apps, simultaneous usage is also at an all-time high.
There are pros and cons for each approach and, like all marketing strategies, it's about the solution that best fits your brand and your audience. Digital strategy can no longer be focused on one channel or medium and multi-channel is the way forward.